The location is prime. The community unparalleled.
Located at the northwest corner of Loop 101 and Hayden Road in Scottsdale, Arizona, Cavasson is being meticulously designed to welcome the world's finest organizations – elevating businesses and lifestyles – in what's quickly becoming the region's premier business district. Cavasson is highly designed, beautiful, modern, connected, and close to the mountains and trails, and integrated amongst the outdoor experiences and amenities that Scottsdale is famous for across the globe.
At full completion, the project's mix of uses will include approximately 1.8 million square feet of market leading commercial office space, 1,600 residences, a full-service hotel, retail, restaurants, and amenities.
The initial phase of the 135-acre premier project is complete with a 440,000 square foot multi-tenant office building housing major corporations including Nationwide Insurance, Stealth Partner Group, Quantum, Wells Fargo, and Sigma Company's Bar-S Foods. Another 5-story office building is complete along the 101 housing Choice Hotels International's technology headquarters, as well as a 6-story parking structure and retail building that is home to local restaurant, PITCH. A new 150,000 square foot multi-tenant building is currently under construction to be anchored by Meritage Homes Corporation. The highly-anticipated Hilton at Cavasson is now complete, which also houses Scottsdale's newest bar and restaurant, the Desert Pony Tavern.
Cavasson is owned and developed by Nationwide Realty Investors, in partnership with Grayhawk Development.
Illustrative Master Plan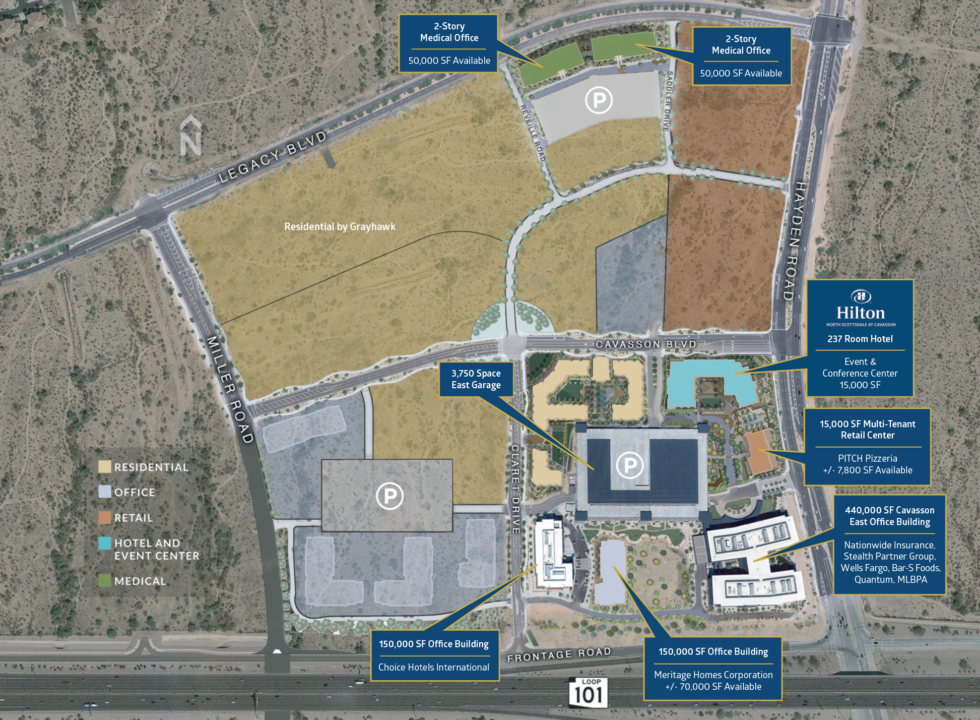 Site maps and renderings are not drawn to scale and are subject to change without notice.